June 25, 2012
Tropical Storm Debby threatened to spawn more tornadoes Monday as the stationary cyclone pummeled the Gulf Coast with fierce winds and heavy rain.
The storm has already killed at least one person after apparent tornadoes struck central Florida, officials said.
And with Debby coming to a standstill in the northern Gulf of Mexico, states surrounding the sprawling storm could endure fierce winds and intense rainfall for days.
As of Monday morning, Debby was located about 90 miles from the southern tip of the Florida panhandle, the National Hurricane Center said.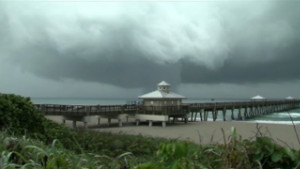 Tropical Storm Debby produces waterspout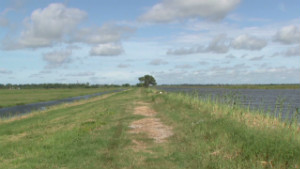 Tropical Storm Debby preps
The storm packed maximum sustained winds of 50 mph, and tropical storm-force winds -- those 39 mph or stronger -- extended 200 miles out from its center.
Debby is expected to dump a total of 10 to 15 inches of rain over the eastern Florida panhandle and northern Florida, with isolated amounts of up to 25 inches, the hurricane center said.
"Given the recent heavy rainfall and wet soil conditions, these additional amounts will exacerbate the flash flood threat across portions of northern Florida and southern Alabama," the weather agency said.
On Sunday, two apparent twisters destroyed four homes in Florida's Highland County, said Gloria Rybinski, emergency operations spokeswoman for the county.
A woman was found dead in a home in Venus, located in the middle of the state between Port St. Lucie and Sarasota, Rybinski said.
In Madeira Beach, about 10 miles east of St. Petersburg, Florida, Debbie Ponceti said her front lawn had been reduced to mush and the water in a lagoon near her house was steadily rising. There had been no let up in the rain, which is forecast to continue through Tuesday.
"Typically when a thunderstorm happens, it is over in 20 minutes," Ponceti said Sunday. "But this has been going on all day."
In nearby Redington Beach, Keri Ann Eversole said winds appeared to be blowing between 40 to 50 mph.
"The rain was coming down sideways," Eversole said. "(It) felt like glass."
A forecast track showed Debby remaining a tropical storm as it eventually moves northward and makes landfall, possibly Thursday, on the Florida panhandle. But forecasters warned Debby's track remained uncertain and said the "new official track remains a low-confidence forecast."
The storm has raised concerns for those working on 596 manned oil and gas production platforms throughout the Gulf, run by various companies.
One of them, Shell, said Sunday that it had evacuated 360 staff the previous day and was planning further evacuations. ExxonMobil said it has "evacuated nonessential personnel" from its offshore facilities and is preparing to evacuate the rest.
And BP spokesman Brett Clanton said Sunday evening that the company has evacuated the "majority of our offshore personnel in the Gulf of Mexico" due to Debby. "Those unable to be evacuated will shelter in place for the storm," he said.
In Plaquemines Parish, Louisiana's southernmost parish, authorities used baskets and tubes to keep Highway 23, the parish's main evacuation and emergency route, free of water should the 4-foot levees be topped, said Billy Nungesser, parish president. The levees were being sandbagged as an additional precaution
"We want to be ahead of that as a precautionary measure," Nungesser said. The area is forecast to get a storm surge of 2 to 4 feet, he said. "With a direct hit, if it goes up a little bit more, we'll have those levees topped."
http://www.cnn.com/2012/06/25/us/tropical-weather/index.html